Circle Time
Circle Time is a teacher-directed time where children gather and learn communication, language, social, and math skills. Circle Time is done on a daily basis beginning with our thematic songs or finger plays that involve rhythm and movement.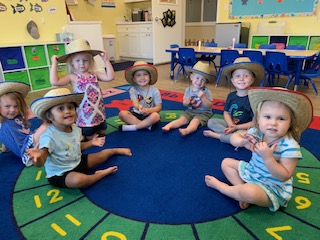 It is during Circle Time that we choose our daily classroom helpers to promote social responsibility. We then turn to the calendar to learn about the date, days of the week, and the month. There are a multitude of math lessons we utilize to teach your child, this is called calendar math ~ learning made fun!
We also read stories to promote language development and reading readiness. Throughout the story we ask comprehension questions to actively engage students and ensure understanding.
   
We have a wide variety of props and hands-on teaching aids available for use during Circle Time. Anything may happen during Circle Time depending on the current Thematic Unit!
We conclude Circle Time with the children standing and reciting the Pledge of Allegiance. There is nothing more warming and patriotic than seeing a preschooler recite the Pledge!