Meals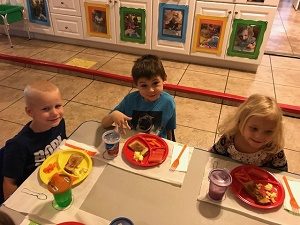 Breakfast, morning snack, lunch, and afternoon snack are all provided in  accordance with the standards of the Arizona Department of Education CACFP.
Your child will be served a delicious and well-balanced homemade breakfast and lunch. All of our meals are prepared fresh daily using quality ingredients and include a variety of fresh fruits and vegetables.
A monthly menu is posted on the wall in the facility.
Meal times are a great opportunity to gather as a class and enjoy time together!